About Larysa Golik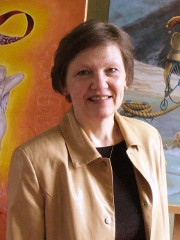 My name is Larysa Golik and I live in Cologne. In 1997 I came from the Ukraine to Germany in order to live and work here. From 1998 on I work as a free artist and illustrator of children books. Currently I work with different book publishing companies and cooperate with many authors. Various craft and artistic experiences made me to who I am now. I have a lot of fun producing artistic miniature works and souvenirs with folklore paintings on them. In my action I experiment and work with many different techniques like aquarelle, pastel, oil painting, tempera, graphic arts and mixed techniques.
Primarily I focus on drawings, graphic arts and acrylic paintings. Among my works I present a repertoire which ranges from naturalism to surrealism. Let my world impress you!
A long time ago I started to reproduce some masterpieces. If you would like to have a masterpiece replica in your home, your portrait, caricature or pictures at your own request for presents, interior decoration or just for pleasure, just contact me.